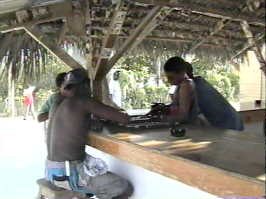 Flint: Wah today look like di grand final fi di school boy cricket competition.

Shane: Ah soh mi hear ah nuff man ah go mi might teck ah wild run mi self.

Bolo: Ah who ah play who ah dat dah final?

Shane: Negril versus Green Island.

Flint: Mi watch di two team play already dem play good cricket fi school boys.

Shane: Ah dem same little young youth ah di future cricketer fi Jamaica an de West Indies.

Bolo: Das why wi fi go support dem meck dem feel proud ah playing.
Click for the previous Back Ah Yawd, or click for the next one.