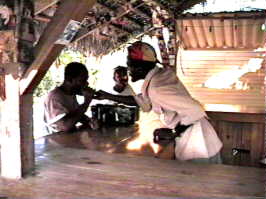 Dave: Tech, ah wah yuh ah go inna di morning yah?

Tech: Mi ah go fix ah man light over yah so.

Erol: So everything cris den?

Tech: Yeah mon, so wah yuh up to Dave?

Dave: Ah cool mi ah cool out fi a while red up mi face before mi ah go shop.

Erol: Mi and Dave ah jerk chicken whole day tiday wi hah some bwoy ah come party.

Tech: Jus meck shore sa uno noh over nyam and drink like one friend who when him drink and drink yuh think ah any mad man!
Click for the previous Back Ah Yawd, or click for the next one.