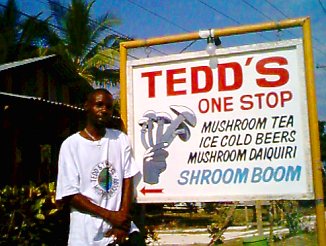 Tedd's One Stop
May 21st, 1998
Yesterday we needed to test out our new RealAudio broadcasting system and Tedd's One Stop volunteered to host our afternoon test session. Our test was a complete success from Tedd's, which is located just outside of Negril on the road to Savanna La Mar. Garland (Tedd - shown here) wanted me to pass along the specials he is offering - on Monday, Wednesday and Saturday between 4pm and 7pm there is his 2 for 1 Very Happy Hour! And if that is not enough of an incentive, he is also offering free pickup or delivery (on non-2 for 1 days) - you can email him by clicking here or when in Negril call 876-360-9887. Note: Everything is set for our best Thirsty Thursday Internet Pub Crawl at Jamaican Price! For details on how to join us - be sure to check the Negril Message Board complete details. Back Ah Yawd is taking a medical break - Garth seems to have mangled his hand - give him a few days to heal and he'll be back in action!
At 2:13pm - an overcast afternoon... The temperature is 92° F, 33° C.
Click here for Translation






© Copyright 1998. Beingee's. All Rights Reserved.