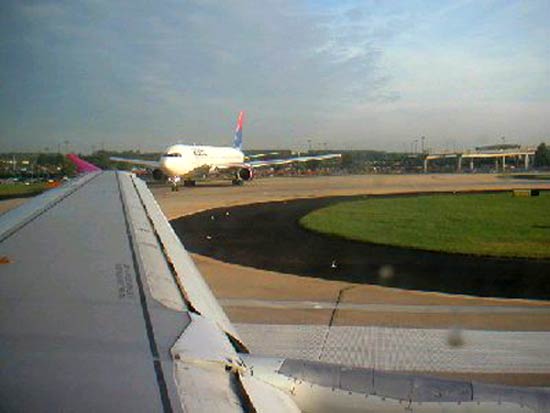 Rounding the Corner...
October 31st, 2002
...and heading for "home" with that "home" being Negril, Jamaica! Dokk of NegrilNet.Com, the home of Negril Entertainment Network's host server took this picture of the runway at the Atlanta Airport as his plane was getting ready to takeoff on its trip to our Caribbean island paradise earlier last month! Dokk is planning the annual NegrilNet convention for webmasters across the world gathering in Negril! Many webmasters and familes and friends have already signed up, if you are also a webmaster you may want to give it a click and see if you would want to join in the convention. We would like to thank Dokk for all he has done for Negril, and also welcome anyone else who has a picture that they want to share with other members of our Negril online community, feel free to email us a JPG file photo of your favorite shot at realnegril@yahoo.com and let us share it with all the other Beingee's Negril.Com "Boardies"! Irie!
Daily Music News: The Negril Entertainment Network is back on Friday night from the Jammin' in da Jungle Party and then again on Sunday morning with a webcast and chat with the Overtakers at Selina's Coffee Bar and Eatery. The NEN schedule continues on Wednesday with webcasts and chats at noon from Fun Holiday and at sunset from 3-Dives. For the most current music news, keep checking here, the Shows & Events listing and our new NEN (Negril Entertainment Network) page located in our Entertainment section! As always, you can check the Negril Message Board for more information about the live webcasts and chats! As the time for each live NEN event approaches, check for details on the Negril Message Board and the new NEN section. This will guide you through the procedure to join in the live web cast and chat in the Negril Chat Room. To make it to the Negril Message Board click on the Main Menu above or below and then look for the Negril Message Board link!
At 8:24pm - a cool evening... The temperature is 82° F, 28° C.
Click here for Translation
Beingee's Internet Negril Privacy Policy
Beingee's Internet Negril.Com is Powered By Globalnet


We use them and they can provide for all your Hosting Needs!

Other area to visit in Jamaica:


© Copyright 2002. Beingee's. All Rights Reserved.