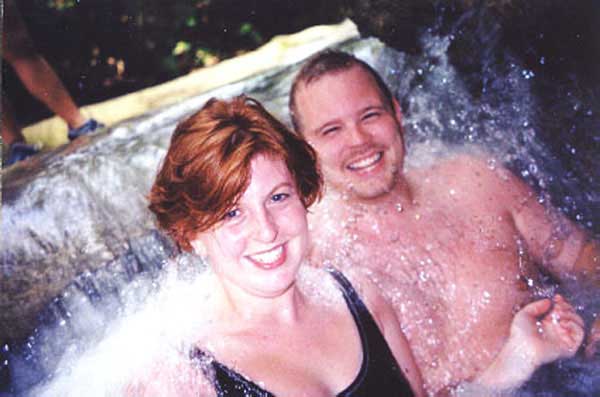 To the Future!
December 30th-31st, 2000
This past year has been filled with some amazing times for Beingee's Negril.Com! We have had the pleasure of celebrating weddings, engagements (see Muse and Just Dave above at Mayfield Falls and of course the live engagement webcast on the NEN at Mariner's Inn). There were incredible performances brought to you live on the NEN from many artists and venues all around Negril. We've had our share of troubling times with the disappearance of a person who we've come to care about, and scares from people who make up the the Negril online community represented by the Negril Message Board. Beingee's has done it's best to bring the Internet not only to the large resort properties but also to the smaller businesses, to pass on the cool vibes that makes Negril a place you return to over and over again. Negril is a little piece of magic for many of us, just as there should be a little piece of magic in your life everyday to keep you moving forward. And that magic is positivity. All we need to do is believe that the positive is possible. If all mankind thought positively and not with greed, what a world we would be living in. Make a difference in 2001 - be positive and treat others as you would want to be treated. It sounds so simple because it is just that simple. Happy New Year's Eve to all! It's a new Millenium!!!
Daily Music News: The Negril Entertainment Network's next live web cast and chat will be on Wednesday from Fun Holiday starting at noon and Roots Bamboo at 9pm! And on Thursday we will be live from Alfred's Ocean Palace for yours truly's 40th Birthday Bashment! If you are going to be in Negril this year, please stop by and help us celebrate life at any of the NEN live events. As always, the information will be posted on the Negril Message Board, letting you join in the live web cast and chat in the Negril Chat Room. To make it to the Negril Message Board click on the Main Menu above or below and then look for the Negril Message Board link!
At 9:25pm - getting ready for the festivities! The temperature is 76° F, 25° C.
Click here for Translation
Beingee's Internet Negril Privacy Policy
Beingee's Internet Negril.Com is Powered By Globalnet


We use them and they can provide for all your Hosting Needs!

Other area to visit in Jamaica:

© Copyright 2000. Beingee's. All Rights Reserved.