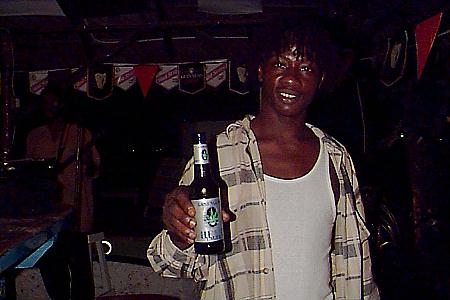 Here's To You!
September 30th, 1999
Here's to you! You, our Jamaican visitors are the reason we are here to make sure that your vacation experience is everything you dreamed and more! Here is the NEN's Cyber Host Michael Funny Face offereing you one of the beverages to hit the shores of our tropical Negril - Hemp Beer! Yah mon! Being somewhat of a beer aficionado, I have to say that the Hemp Lager has a lightness along the lines of Corona, but when you take that last swig, you notice a sweetness that hops just cannot match! If you like your beers, this is a definate brew to try. Here's to you! Daily Music News: The stationary weather depression situated over the island has been causing The Negril Entertainment Network some problems webcasting, the Friday night show from the Negril Yacht Club should be a go, but it all depends on the weather (and the problems that are associated with the island's ISP upgrading)! Keep watching the Negril Message Board for more information on joining the NEN live webcast and chat from Negril!
At 10:21am - sun shining. The temperature is 82° F, 27° C.
Click here for Translation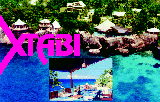 This page is sponsored by Xtabi Resort on the cliffs in Negril. If you like this website, be sure your next visit includes a stop at the famous Xtabi Resort and Restaurant! Let them know you saw them here! If you want to be a sponsor, bemail us. Thanks!
Other area to visit in Jamaica:

© Copyright 1999. Beingee's. All Rights Reserved.