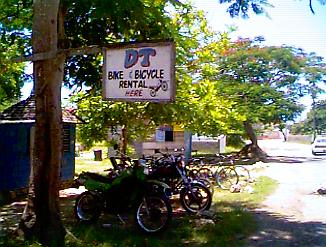 Rental Shops
July 30th, 1998
Explore Negril! There are many places to see and people to meet on the western most tip of the Caribbean island known as the "land of wood and water", Jamaica! One way to explore Negril and it's surrounding areas is to rent a bike, scooter or motorcycle from any one of the many rental shops available (DT's Bike Rental shown here on Negril's West End, within a half mile of Jenny's Favorite Cakes). Note: As always, use your best judgement when renting any form of self transportation. Also remember that the driver is liable for any damages to the rental vehicles so please obey all traffic laws, stay clear headed, wear your bike helmet and by all means, don't do anything you wouldn't do at home! Rentals many times require a credit card for a security deposit - this works in your favor. With credit cards, any disputed charges can be double checked before final billing. Back Ah Yawd is back again today, click on Back Ah Yawd for today's installment!
At 11:32am - approaching the noon hour... The temperature is 85° F, 29° C.
Click here for Translation








This page is sponsored by Charela Inn on the beautiful beach of Negril. If you like this website, be sure your next visit includes a stop at the fabulous Charela Inn and Le Vendome Restaurant! Let them know you saw them here! If you want to be a sponsor, bemail us. Thanks!
Other area to visit in Jamaica:

© Copyright 1998. Beingee's. All Rights Reserved.