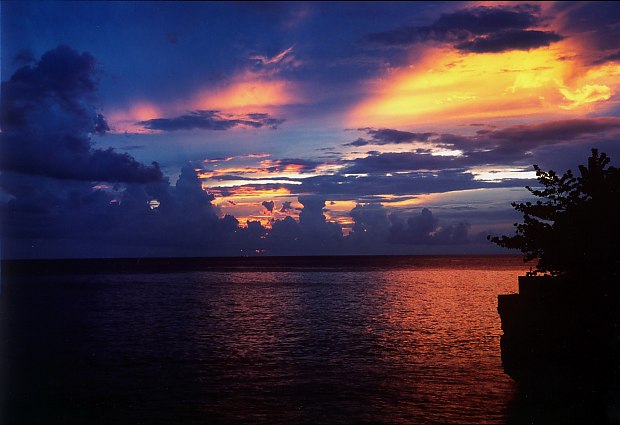 Sunset of the Week!
May 29th-June 4th, 2000
This week's Sunset for of Week is one of the most spectacular ones that Beingee's Internet Negril has had the opportunity to post on the web site! Curtis sent in this glorious picture, having taken it several Octobers ago at Banana Shout. Curtis (and Beingee's) felt that this sunset captured the awesome beauty that is Negril and Jamaica and wanted to share it with all the visitors of Negril.Com! All I can add is a big thank you to Curtis - it is an incredible picture! Thank You Curtis!!! Daily Music News: The Negril Entertainment Network will be on break for a while but will be returning later in this month. This break will be a fairly short one, so keep checking the Negril Message Board for the latest information on how to join the NEN for the next live webcast and chat in the Negril Chatroom! To make it to the Negril Message Board click on the Main Menu above or below and then look for the Negril Message Board link!
At 8:32pm - a clear cool evening... The temperature is 76° F, 24° C.
Click here for Translation








Other area to visit in Jamaica:

To meet the banner advertisers requirements, we need to post this link to their privacy policy section. Give it a click if you have any qualms about it mon!
© Copyright 2000. Beingee's. All Rights Reserved.