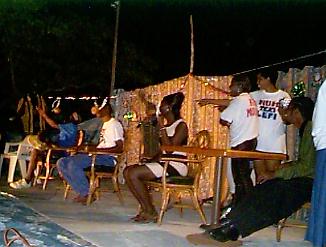 Nuh Teki, Lefi
March 30th, 1998
Sunday night we were going to broadcast our first play on the Negril Entertainment Network. Unfortunately we ran into technical difficulites and could not bring you the play, "Nuh Teki, Lefi", live from the Negril Yacht Club. Today's picture was taken just before the play began, while the crowd was being entertained during the Bun Eating Contest! For those interested, "Nuh Teki, Lefi" means "don't take it, leave it". For more local flavor, be sure to check out Back Ah Yawd. Today's episode continues our slice of Jamaican life - click here or on Back Ah Yawd to see what is happening.
At 10:18am, it's going to be a warm one... The temperature is 90°, 32° C.
Click here for Translation







This year's Spring Break Negril Today daily page is sponsored by MTV Springbreak Gear! If you like this website, be sure to give them a click mon and let them know you saw them on Beingee's! It really helps mon! If you want to be a sponsor, bemail us. Other area to visit in Jamaica:

© Copyright 1998. Beingee's. All Rights Reserved.