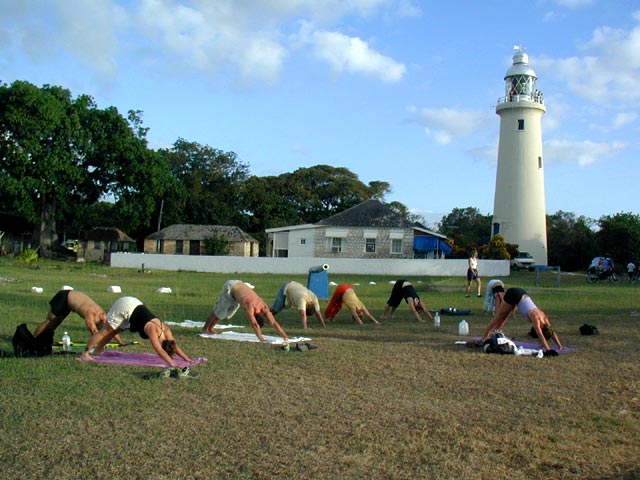 For Body and Soul
November 29th, 2001
Erin, a yoga instructor and her friend Jenie, a massage therapist worked hand in hand to bring down a group of people from Manhattan to rejuvenate their bodies and souls. Mark, Page, Patric, Mary Anne, Hope, Robin, Markie, Julie and Racheal needed a break from the City and decided to spend a week of meditation in Negril! Erin and Jenie knew that the pressures that this group had been dealing with since the events of 9-11 needed to be released, especially for one of New York City's Finest. Erin and Jenie helped to show this group the natural healing powers of Negril that Jenie explains as being part of the living forces that are Jamaica - the air, the fruits, the people, the sea. A friend of Erin and Jenie, Hermine cooked up delectable dinners for the whole group. The group returned to NYC with a renewed sense of being - one of the magic qualities of Negril! Today's Negril Today page featuring the meditation group at the Lighthouse is dedicated to the light and joy that has been provided to the world by George Harrison. Rest in peace George.
Daily Music News: The Negril Entertainment Network's schedule continues next week from Cliff's on the Cliffs at sunset on Tuesday evening and on Wednesday at noon from Fun Holiday! For more information about future NEN events and the Beingee's Board Meeting Daze, which are held on Tuesdays at sunset and Wednesday at noon from Fun Holiday, keep checking here, the Shows & Events listing or the Negril Message Board for all NEN live shows! As the time for each live NEN event approaches, check for details on the Negril Message Board. These posts will guide you through the procedure to join in the live web cast and chat in the Negril Chat Room. To make it to the Negril Message Board click on the Main Menu above or below and then look for the Negril Message Board link!
At 8:47pm - curried chicken tonight! The temperature is 73° F, 23° C.
Click here for Translation
Beingee's Internet Negril Privacy Policy
Beingee's Internet Negril.Com is Powered By Globalnet


We use them and they can provide for all your Hosting Needs!

Other area to visit in Jamaica:

© Copyright 2001. Beingee's. All Rights Reserved.