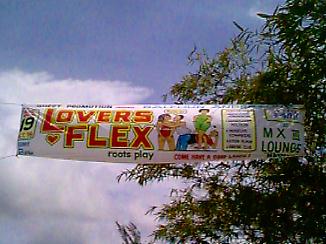 Lovers Flex
September 29th/30th, 1998
For those of you have been to Jamaica enough times to begin to understand the local lingo, one of the things that you might want to take in on your next visit is one of Jamaica's roots plays. The plays are written and performed by Jamaicans who provide a great evening of entertainment. Coming up on October 19th at MXIII is a play called Lovers Flex. If you happen to be in Negril on the 19th and understand Jamaican patois, by all means stop by MXIII and check out the roots play Lover's Flex! Note #1: sorry about not having the Tuesday night broadcast from Mariner's Inn, but I was a little under the weather as they say - but we should have more for you on Thursday night at the Thirsty Thursday Pub Crawl and possibly Yellowman from DeBuss! Note #2: Negril Gardens has acquired their own domain, www.negrilgardens.com and have asked to be removed from the Beingee's Where To Stay section. We wish them all the best for the future and thank them for their past support! Note #3: If there will be an NEN broadcast on Thursday night - details will be posted on the Negril Message Board - so keep watching!
At 8:28am - the morning starts... The temperature is 80° F, 26° C.
Click here for Translation







This page is sponsored by Catcha Falling Star on the majestic cliffs of beautiful Negril Jamaica. If you like this website, be sure to book your next visit with Catcha Falling Star - just click on the link to take a tour of the property! And be sure to let them know you saw them on Beingee's! If you want to be a sponsor, bemail us. Thanks!
Other area to visit in Jamaica:

© Copyright 1998. Beingee's. All Rights Reserved.