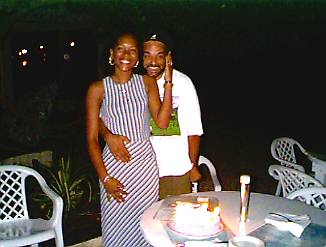 Happy Birthday
August 29th, 1998
People come to Negril Jamaica to celebrate many major events in their lives such as weddings, honeymoons, aniversaries and birthdays! Last night at the Negril Yacht Club, Georgia from Kingston was celebrating her birthday with Tzaddi from Chicago! We took time out of the NEN (Negril Entertainment Network) Real Video broadcast of The Lethal Weapon Band to capture this picture just before Georgia made her wish and blew out the all the candles. Happy Birthday Georiga and she wanted us to pass along to her friend Simone that she misses her and is having a great time in Negril! Note: the NEN will be broadcasting on Saturday night live from the Negril Yacht Club with Ivo Wiser and the Airwave Musicians - starting around 8:30pm JA time. Details on how to join us will be posted on the Negril Message Board. See you in the Negril Chat Room as you watch us on the NEN Real Video broadcast! News Update: Back Ah Yawd's author, Garth Beckford, is feeling much better and is now out and about gathering some new photos and stories for the next installments of Back Ah Yawd! As mentioned yesterday, if today's picture is not enough - be sure to go back check out our past pages found in the reference section. As of last count, we have had over 1600 pictures posted of the most perfect place on the planet - paradise Negril!
At 10:37am - morning sounds in Negril. The temperature is 88° F, 30° C.
Click here for Translation








This page is sponsored by Charela Inn on the beautiful beach of Negril. If you like this website, be sure your next visit includes a stop at the fabulous Charela Inn and Le Vendome Restaurant! Let them know you saw them here! If you want to be a sponsor, bemail us. Thanks!
Other area to visit in Jamaica:

© Copyright 1998. Beingee's. All Rights Reserved.