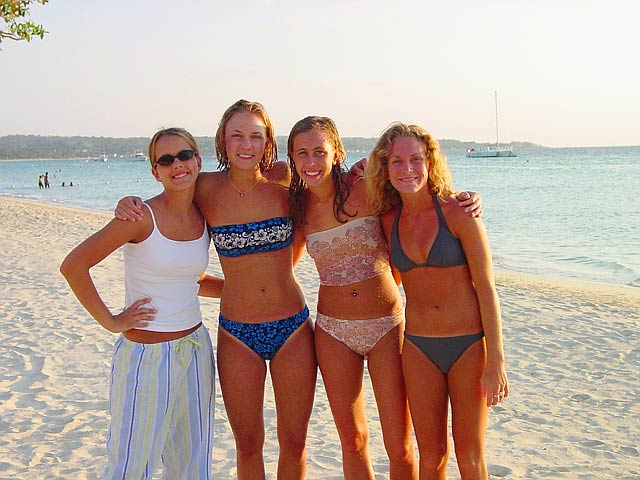 The Negril Girls
August 29th-30th, 2002
With the USA Labor Day weekend starting, it is a time for American families and friends to gather together and share the good times and the fruits of their labor. Jim and Debbie, two of our extended Negril online family seems to have gotten a jump on the tradition by leaving Toledo, Ohio early and bringing their daughter and her friends on a trip to our sandy shores. They stayed at Crystal Waters on this trip, and are looking forward to many more! Our thanks go out to the whole Toledo Crew for this enticing photo of the spectacle that is Negril! Enjoy your holiday weekend to all our friends in the US of A and if you are so inclinded, feel free to email us any photos you would like to see featured on our Negril Today page! Email us a JPG file of the picture to realnegril@yahoo.com and we will do our best to use it! Thanks!!
Daily Music News: The Negril Entertainment Network is developing an international party on Friday's as the webcasts and chats are drawing such a following during the Jammin' in da Jungle party that groups around the world are inviting friends over to have Jungle Negril parties at their homes! Just tune into the NEN and join in the Caribbean festivities. Have some jerk chicken and cold Red Stripes and it's almost like being here! Almost... (grin) The NEN will be back with their live webcasts and chats on Wednesday from Fun Holiday at noon and at sunset from 3-Dives! For the latest music news, keep checking here, the Shows & Events listing and our new NEN (Negril Entertainment Network) page located in our Entertainment section! As always, you can check the Negril Message Board for more information about the live webcasts and chats! As the time for each live NEN event approaches, check for details on the Negril Message Board and the new NEN section. This will guide you through the procedure to join in the live web cast and chat in the Negril Chat Room. To make it to the Negril Message Board click on the Main Menu above or below and then look for the Negril Message Board link!
At 2:36pm - the rain comes a little early today... The temperature is 82° F, 28° C.
Click here for Translation
Beingee's Internet Negril Privacy Policy
Beingee's Internet Negril.Com is Powered By Globalnet


We use them and they can provide for all your Hosting Needs!

Other area to visit in Jamaica:


© Copyright 2002. Beingee's. All Rights Reserved.