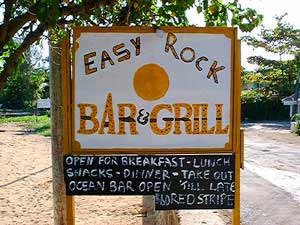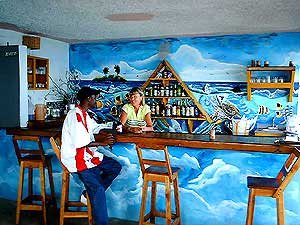 Easy Mon - It's the Easy Rock!
January 29th, 2001
One of Negril's newest venues opened by Trevor (Clever T) and Sue is the Easy Rock Bar & Grill! Easy Rock is set in a gorgeous cliff setting on Negril's famous West End Road right on the Caribbean Sea with its own small beach. The view of the beach across the water and the mountains beyond is breathtaking. As Trevor says "It was important to both Sue and I to create a setting where Jamaicans and visitors would feel comfortable to hang out." And it has worked as Jamaicans and visitors alike frequent The Easy Rock. The menu includes cooked to order fresh seafood and chicken dishes 'Jamaican style' and the addition of some Italian, English, Indian and vegetarian dishes. All the grilled foods are cooked on an open charcoal grill, including grilled lobster, roast fish (a local favourite) and Jamaica's own traditional jerk chicken. Easy Rock opens early for breakfast, through to lunch and dinner. Snacks are also served including soups, sandwiches at any time of day. The well stocked bar is open from early to late depending on the needs of its customer. You can always just have coffee, Milo or tea and read the daily newspapers provided. A takeaway service is also provided from the grill.

Easy Rock also has a Cyber Cafe available where you print documents, e-mail family or friends or simply surf! You can email them at easyrockbar@hotmail.com. At $200JA per hour their Email service is hard to beat! One of the greatest things about Easy Rock is that you can enjoy the sun all day on the roof terrace with a few beers, lunch or a snack taking in the panoramic view of the bay, the far off mountains and the sparkling Caribbean Sea. Then in the evening enjoy candlelit dinner with the stars twinkling up above and the beach lights and sounds just across the water. The 'Ocean Bar' with it's King Pinto seascape mural (shown above) is a one of a kind art work! Drink service is on hand if you just want to enjoy the sunshine on the beach. Easy Rock also offers very reasonably priced offshore fishing and/or sight seeing trips with 'Captain Eddy' from JUS FISHING. Eddy guarantees that you will always catch fish as well as 'catching' a great sea view of the Negril West End Cliffs. The Easy Rock staff will then prepare, cook and serve any fish caught for your evening dinner, lunch or breakfast. Children are welcome with adult supervision. Easy Rock is about 20 minutes walk from the roundabout downtown or 5 minutes ($100 JA) in a taxi, opposite Tigress Lane, close to the famous Mi Yard Bar.
Daily Music News: The Negril Entertainment Network's next scheduled NEN events before the week long wild "Meeting of the Board 2001" is set for Wednesday at noon from Fun Holiday and 9pm from Roots Bamboo! As always, details for these events will be posted on the Negril Message Board as their time approaches. It will let you know how to join in the live web cast and chat in the Negril Chat Room. To make it to the Negril Message Board click on the Main Menu above or below and then look for the Negril Message Board link!
At 7:25pm - a rockin' evening in Negril! The temperature is 78° F, 26° C.
Click here for Translation
Beingee's Internet Negril Privacy Policy
Beingee's Internet Negril.Com is Powered By Globalnet


We use them and they can provide for all your Hosting Needs!

Other area to visit in Jamaica:

© Copyright 2001. Beingee's. All Rights Reserved.