Latest Page Sponsor!
December 27th, 1999
Beingee's Internet Negril is begining it's sixth year as one of the premiere websites on the Internet. Thanks to you and our loyal sponsors, Negril.Com has developed into quite an online community! The Negril Message Board has taken on a life of its own - thanks to everyone who has taken part in Negril on the 'net. In order to keep the latest and greatest coming to you from Negril, we would like to introduce you to our latest beach hotel page sponsor - the Beach House Villas! We would like to thank them for their support and ask you to be sure to give them a click before making your final vacation plans in the Capitol of Casual! Daily Music News: The Negril Entertainment Network's schedule for the next few days is up in the air with parties and festivities changing plans on a seemingly endless basis. On Wednesday look for a live sunset webcast from 3-Dives on Negril's wild West End! If all goes as planned, the NEN will continue on to Roots Bamboo and then to Prento's Bashment late night! Check the Negril Message Board for the most current information on how to join these webcasts and chat sessions! To get to the Negril Message Board click on the Main Menu above or below and then look for the Negril Message Board link!
At 12:53pm - calming sea... The temperature is 79° F, 26° C.
Click here for Translation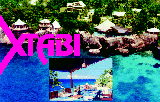 This page is sponsored by Xtabi Resort on the cliffs in Negril. If you like this website, be sure your next visit includes a stop at the famous Xtabi Resort and Restaurant! Let them know you saw them here! If you want to be a sponsor, bemail us. Thanks!
Other area to visit in Jamaica:

&COPY Copyright 1999. Beingee's. All Rights Reserved.