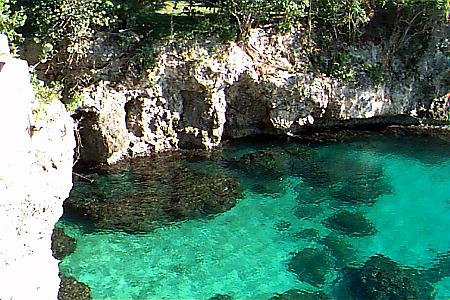 It's A Long Way Down!
November 27th, 1999
Yesterday (click on Previous above or below) we announced the reopening of the world famous LTU Pub on Negril's far West End! Visitors have been leaving their pictures and business cards there over the years and one of our "boarders", Reggae Ambassador, who has left mementos on previous trips, mentioned he'd never seen anyone dive off the cliffs from there. As this picture shows of our crystal clear waters, it's a long way down! R.A. - I'm not sure how high it is - but it looks much higher than Rick's! Daily Music News: The Negril Entertainment Network is continuing the upgrade process to make the NEN ready for the year 2000! This next week the NEN will have an abbreviated line up because of the huge Bob Marley Tribute Bashment coming up December 4th! Although the NEN will not be carrying it live, look for Negril Today updates live from Ochi next weekend! Keep on watching the Negril Message Board (found on the Main Menu) during this week for the most current status of the live webcast and chat from Negril, Jamaica! To get to the Negril Message Board click on the Main Menu above or below and then look for the Negril Message Board link!
At 1:21pm - a blustery weekend! The temperature is 85° F, 29° C.
Click here for Translation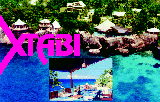 This page is sponsored by Xtabi Resort on the cliffs in Negril. If you like this website, be sure your next visit includes a stop at the famous Xtabi Resort and Restaurant! Let them know you saw them here! If you want to be a sponsor, bemail us. Thanks!
Other area to visit in Jamaica:

© Copyright 1999. Beingee's. All Rights Reserved.