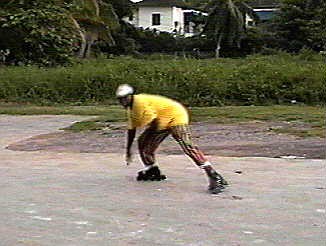 Reggae Skate
June 27th, 1997
Reggae skating in paradise mon! Oral, the chef at Roots Bamboo is shown here in the Roots driveway showing off some of the more fancy moves that he has learned from Koolbynow Inline Skating, located at Anancy Park. Inline skating is picking up speed in Negril so bring down your skates or rent a pair of Bauer skates from the fine folks at Koolbynow. Skating in our tropical paradise, just do it mon! We have more Sumfest information, including ticket prices, click here or above on page #2 for more.
At 6:44 am, a cool morning! The temperature is 74° F, 23° C.

© Copyright 1997. Beingee's. All Rights Reserved.