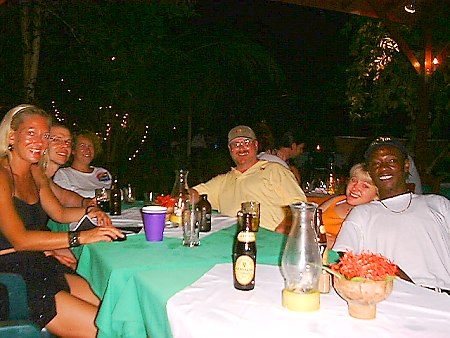 Board Meeting Daze #4!
May 27th, 2000
The Home Stretch! The May Beingee's Board Meeting Daze had a busy Saturday! First stop of the day was at Winners Sports Bar and Restaurant where MusicMon, LuckyLady, myself, Prento, Sel-Vin, LIN, Stan and Jamie sat in air conditioned comfort as the Knicks handled the Pacers in the USA's NBA Playoffs. Later that evening, the Board Meeting moved on to the Lighthouse Village's Cyber Mento Party where the music and food pleased the senses as this picture shows! Daily Music News: The Negril Entertainment Network took a break Saturday to get ready for the main event in this month's Board Meeting Daze at the Thatch Hut Bar! Keep checking the Negril Message Board for the latest information on how to join the NEN for the live webcast and chat in the Negril Chatroom! To make it to the Negril Message Board click on the Main Menu above or below and then look for the Negril Message Board link!
At 6:17pm - a light rain... The temperature is 78° F, 26° C.
Click here for Translation








Other area to visit in Jamaica:

To meet the banner advertisers requirements, we need to post this link to their privacy policy section. Give it a click if you have any qualms about it mon!
© Copyright 2000. Beingee's. All Rights Reserved.