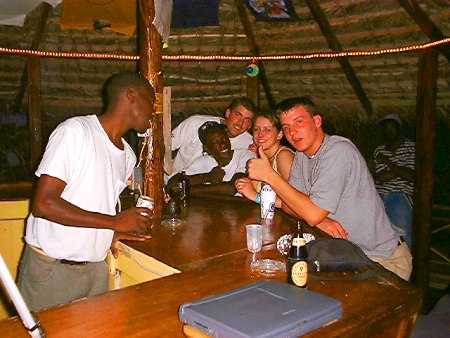 Spring Breakers at the Thatch Hut!
March 27th, 2000
On Sunday night the Negril Entertainment Network webcast live from Prento's Thatch Hut on Tigress Lane! It was a great webcast as these Spring Breakers can attest to! Talk about partying, these Breakers had been awake for over 36 hours - I guess they just can't get enough of our tropical paradise! Note: this is the final week for Spring Break coverage, the Mickey D's is moving on as is the Taco Bell Express that were brought in to provide just a little taste of home for the Spring Breakers - many of whom have never been outside their own countries! Once again, Beingee's would like to thank the Breakers and hope that they return now that Negril is getting back to being Negril! Daily Music News: The Negril Entertainment Network next scheduled webcast should be Tuesday night from Mariner's Inn's Sunset Show - but we have been having ISP problems on Monday so no guarantees mon! Keep on checking the Negril Message Board for the latest information on how to join the live webcast and Negril Chatroom! To make your way to the Negril Message Board click on the Main Menu above or below and then look for the Negril Message Board link!
At 12:38pm - it's a hot one today... The temperature is 86° F, 30° C.
Click here for Translation








Other area to visit in Jamaica:

© Copyright 2000. Beingee's. All Rights Reserved.