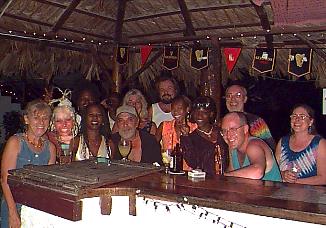 Boxing Day
December 26th, 1998
Boxing Day is the celebrated the day after Christmas, and it has it origins from the Colonial Days. Some say it has to do with an old British tradition of opening their presents the day after Christmas, where as some believe that it has it origins from the days of old when the plantation masters would "box" up their left over food and goodies for their servants, workers and slaves. Whatever the case, Jamaicans to this day celebrate Boxing Day - and from all of us at the Negril Yacht Club - Happy Boxing Day! (Note: one of Beingee's first pages was on Boxing Day, 1995 - click here to take a look). Daily Music News: The Negril Entertainment Network's Boxing Day broadcast from the Negril Yacht Club is being postponed by problems in New Jersey - hopefully they will be fixed before tonight gets too late! Once again, details will be posted on the Negril Message Board as show time approaches (sometime after 8pm JA time)!
At 7:10pm - Happy Boxing Day!!! The temperature is 81° F, 27° C.
Click here for Translation







This page is sponsored by Catcha Falling Star on the majestic cliffs of beautiful Negril Jamaica. If you like this website, be sure to book your next visit with Catcha Falling Star - just click on the link to take a tour of the property! And be sure to let them know you saw them on Beingee's! If you want to be a sponsor, bemail us. Thanks!
Other area to visit in Jamaica:

© Copyright 1998. Beingee's. All Rights Reserved.