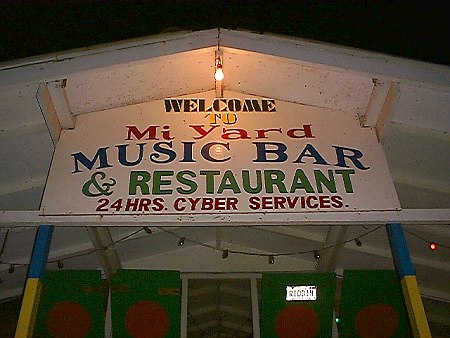 24 Hour Service!
August 25th-26th, 2000
Negril can be many things to many people. For nature lovers it is an awesome sight. For lovers it can be inspiring. For others it is a place to let your hair down and party all night! For those who are the 24 hour variety, one place stands above all the others - Delroy's Mi Yard Music Bar and Restaurant! Mi Yard featuring drinks, music and food 24 hours a day! Add to that 24 hour Internet service, for those who have friends in other timezones this can be a real benefit! Plus a cheese omelette at 3 am at times does come in handy! Mi Yard - your 24 hour hot spot in Negril!
Daily Music News: The Negril Entertainment Network will be on break for a few days because of the tropical storms over the island. But the NEN will be back next week! Check here or the Negril Message Board for the latest information on how to join the NEN for the next live webcast and chat in the Negril Chatroom! To make it to the Negril Message Board click on the Main Menu above or below and then look for the Negril Message Board link!
At 12:51pm - a sunny afternoon. The temperature is 86° F, 30° C.
Click here for Translation








Other area to visit in Jamaica:

To meet the banner advertisers requirements, we need to post this link to their privacy policy section. Give it a click if you have any qualms about it mon!
© Copyright 2000. Beingee's. All Rights Reserved.