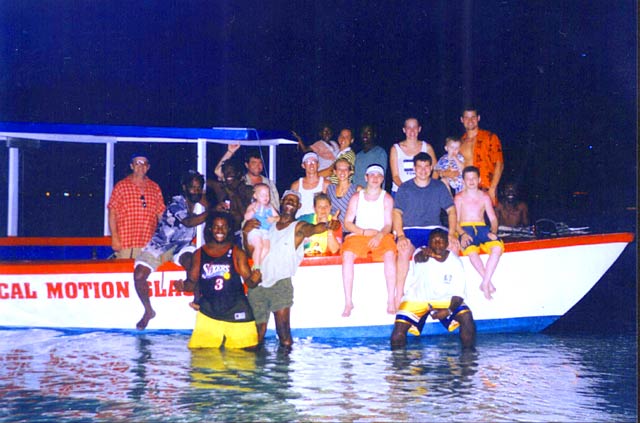 Come on Baby...
July 25th-26th, 2002
do the Local Motion with me! With all due credit to Little Eva and the husband and wife songwriting team of Gerry Goffin (mostly words) and Carole King (mostly music), today's Negril Today page seemed to call for the words of the song The Locomotion! It seems everybody was doing the sunset cruise on the Local Motion Glass Bottom Boat! In the words of Susan, a longtime member of our Negril online community, "Hi! I sent you guys a pic of me getting my hair braided two years ago and Iwas the one that was two months pregnant and didnt know it. Well I was just back in Jamaica June 1-8. I went with my husband's family and a couple of other people. Me and my husband are in the top right corner with our little boy who was in my belly last time we were in Jamaica. I have this pic of our last night June 7 when we went on a sunset cruise up towards the famous lighthouse and when we returned we took a group picture. We couldnt have asked for better weather and company. The Jamaicans in the picture are family friends Jack, Smokey otherwise known as Smokin Joe a dj, Mousie and a few others. We had a blast and all want to come back. The picture was taken in front of Barry's, and Mommas place. Much love and respect - Susan". Thank you Susan!
Daily Music News: The Negril Entertainment Network had it's best webcast yet at the first webcast from the Jammin' In Da Jungle on Friday night! Be sure catch it next week if you missed it this week! The NEN will return with live events scheduled on Wednesday from Fun Holiday at noon and at sunset from 3-Dives. Then it is back to The Jungle on Friday! For the latest music news, keep checking here, the Shows & Events listing and our new NEN (Negril Entertainment Network) page located in our Entertainment section! As always, you can check the Negril Message Board for more information about the live webcasts and chats! As the time for each live NEN event approaches, check for details on the Negril Message Board and the new NEN section. This will guide you through the procedure to join in the live web cast and chat in the Negril Chat Room. To make it to the Negril Message Board click on the Main Menu above or below and then look for the Negril Message Board link!
At 9:42pm - a warm evening in Negril... The temperature is 84° F, 29° C.
Click here for Translation
Beingee's Internet Negril Privacy Policy
Beingee's Internet Negril.Com is Powered By Globalnet


We use them and they can provide for all your Hosting Needs!

Other area to visit in Jamaica:


© Copyright 2002. Beingee's. All Rights Reserved.