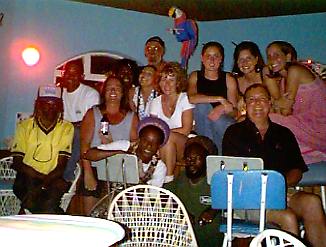 Spring Break Crawl
March 26th, 1998
The last Pub Crawl of March was held on the 26th and it's been fun meeting breakers from all over North America! We had a great time this week with some breakers from Northeastern University in Boston, USA. Donna, David, Pam, Stephanie, and Beth were joined by Bob and Roxy from Saskatoon, Canada. Of course Delroy, Elder Dread, Nicey, Gladstone and the Pirate were present at the party. If you missed the latest episode Back Ah Yawd, be sure click here or Back Ah Yawd for for more!
At 4:29pm, a warm day in paradise. The temperature is 86°, 29° C.
Click here for Translation







This year's Spring Break Negril Today daily page is sponsored by MTV Springbreak Gear! If you like this website, be sure to give them a click mon and let them know you saw them on Beingee's! It really helps mon! If you want to be a sponsor, bemail us. Other area to visit in Jamaica:

© Copyright 1998. Beingee's. All Rights Reserved.