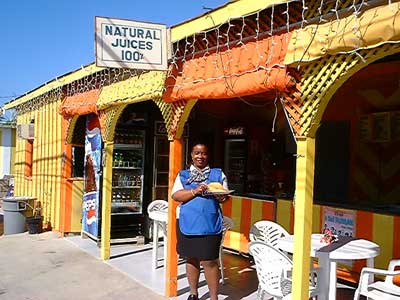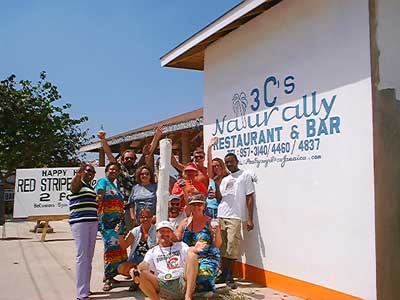 3C's Pastries / Restaurant & Bar
February 26th, 2002
3C's is the name of a very famous family named Pastry Shop and Restaurant situated on the west end road of Negril. We are very well known for our excellent variety of patties & loaves and all visitors to Negril look forward to getting there patties on each visit, it's a must. We also are very well known for our wide variety of cakes and other cocktail goodies ordered as according to the need of our customers.
We have recently expanded our business to better serve our many customers request over the years for more space, so we now have our restaurant next door called 3C's Naturally, and our original Pastry Shop remains in place with just pastries, and now a much wider variety.
At 3C's Naturally we have full Restaurant facilities with a Bar right on the edge of the cliff. We also do catering for large and small groups for weddings, anniversary, birthdays or even just a simple party we will do it as requested. As repeated by many of our customers we have the best spot on the cliff for these occasions and our kitchen is just a step away from our dining areas and bar. We have indoor and outdoor Dining ,as you may choose under the stars on the edge of the Caribbean sea with the best view of the seven miles of Negril's famous white sand beach, or indoors with covers facing the Caribbean sea with all the wonderful breeze or even to be locked away privately and still be able to enjoy the breeze from the sea. Our bar is a must when you come to Negril as we mix real Jamaican rum drinks (lots of rum) and red stripe can be had for the best price in town, come check out our latest drink "CLIFF HANGER".
We are also very well known for our authentic Jamaican food (come check out our ackee & salt fish) see our menu- curried goat, oxtail, chicken, fish vegetable dishes, lobster, shrimp, pasta etc. We also provide breakfast & lunch a wide variety to choose from, and is always available.
At 3C's Pastries we provide a wide variety of pastries and cakes eg. chocolate, cheese, fruit, blueberry, vanilla , blackforrest, just to name a few. We will bake to order your birthday, wedding, anniversary cakes - just give us a call or email us at pastrynegril@cwjamaica.com. We also have naturally made juices right before your eyes, carrot, cucumber, beat, melon, orange, to name a few, ask for you favourite, we'll make it on the spot before your eyes. Ice cream and also ice cream novelties are also at our pastry shop and we also have homemade ice cream made naturally from fruits in season.

ALWAYS ASK FOR OUR BEINGEE'S BOARDIES SPECIALS - JUST VISIT US AND SAY YOU SAW OUR ADVERTISEMENT ON BEINGEE'S NEGRIL.COM.

Daily Music News: The Negril Entertainment Network continues on Wednesday at noon from Fun Holiday and 9pm from Roots Bamboo. Keep checking here, the Shows & Events listing or the Negril Message Board for more information about the live webcasts and chats! As the time for each live NEN event approaches, check for details on the Negril Message Board. These posts will guide you through the procedure to join in the live web cast and chat in the Negril Chat Room. To make it to the Negril Message Board click on the Main Menu above or below and then look for the Negril Message Board link!
At 7:37pm - the begins to heat up... The temperature is 82° F, 28° C.
Click here for Translation
Beingee's Internet Negril Privacy Policy
Beingee's Internet Negril.Com is Powered By Globalnet


We use them and they can provide for all your Hosting Needs!

Other area to visit in Jamaica:


© Copyright 2002. Beingee's. All Rights Reserved.