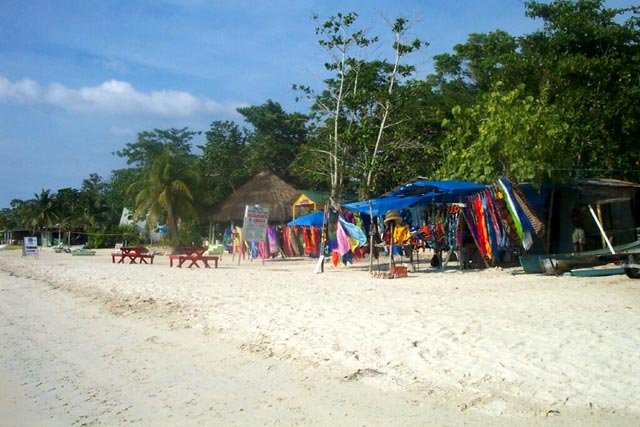 Negril As Always
November 25th, 2002
The more things change, the more they stay the same. That is an often used phrase but for Negril, it remains as true today as it did years ago! Today's Negril Today picture was emailed to us by our Negril online community member Roxanne, who had a long time visitor/resident take this photo of the world famous Negril Beach on September 7th, 2002! According to Roxanne, "After returning from a seven year hiatus, I found Negril to be just as wonderful as I remember from the first visit in 1977. I took a solitary walk this day and wondered how I could have stayed away so long. I will certainly be back this winter." Thanks Roxanne and see you soon!
Note: for those Americans who will be in Negril for your Thanksgiving Day, Hallzer's wanted me to pass on this information:
Hi Boardies. Starting with a mixer at 6pm and dinner at 7pm, Hallzers is offering a traditional Thanksgiving meal on Thursday 28th November. The menu will be fully inclusive of a starter of Smoked Salmon Cornet stuffed with Prawns Marie Rose. A traditional Stuffed Turkey and Cranberry Sauce with Mashed (or Roast) Potatoes and Gravy will follow this, accompanied by Cabbage in the French Style and Buttered Sweetcorn Kernels. For dessert, we will have Grannies Apple and Cinnamon Pie with Cream or Cheesecake. All this for an incredible US$25. However, we are offering a Beingee's special for Boardies. Any Boardie who can quote our password for the day of "Relax at Hallzers & Beingee's" will receive a US$5 discount and get this great feast for only US$20. There is the NEN webcast from 6 p.m. from Hallzers. However, the Thanksgiving menu will be available from 12 noon until 10 p.m.
Please email me at hallzers@cwjamaica.com to make your reservation and if need be we will arrange a one-way pickup for you as well. You could also phone me on 640-2380. Regards, Alan.
Daily Music News: The Negril Entertainment Network will return on Wednesday with their live webcasts and chats at noon from Fun Holiday and at sunset from 3-Dives! There is a special USA Thanksgiving Dinner webcast from Hallzer's on Thursday at 6pm and then it is on to Friday night at the Jammin' in the Jungle party. The NEN will be ready for another wonderful Sunday morning at Selina's Coffee Bar and Eatery with the Overtakers Band. For the most current music news, keep checking here, the Shows & Events listing and our new NEN (Negril Entertainment Network) page located in our Entertainment section! As always, you can check the Negril Message Board for more information about the live webcasts and chats! As the time for each live NEN event approaches, check for details on the Negril Message Board and the new NEN section. This will guide you through the procedure to join in the live web cast and chat in the Negril Chat Room. To make it to the Negril Message Board click on the Main Menu above or below and then look for the Negril Message Board link!
At 9:00am - people begin to wake... The temperature is 82° F, 26° C.
Click here for Translation
Beingee's Internet Negril Privacy Policy
Beingee's Internet Negril.Com is Powered By Globalnet


We use them and they can provide for all your Hosting Needs!

Other area to visit in Jamaica:


© Copyright 2002. Beingee's. All Rights Reserved.