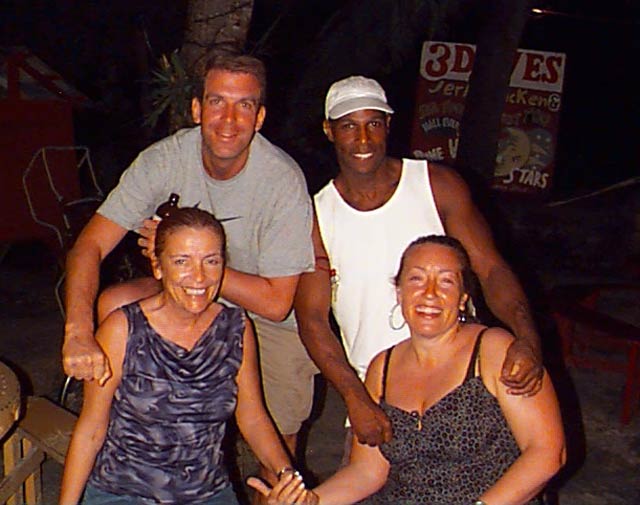 3-Dives After Belly Full
September 25th, 2002
Although the threat of cloudy skys after our afternoon cooling rain on Wednesday prevented the live sunset webcast on the Negril Entertainment Network, it did not stop the weekly Board Meeting Daze party at 3-Dives on the cliffs! It was a special party for your's truly because one of the very first visitors to the Beingee's Negril.Com web site attended and finally convinced her laid-back husband to attend our Negril.Com gathering. Lloydie's jerk chicken and pan fried snapper was the hit of the evening, for a while the "yummmms" drowned out the reggae music at 3-Dives. Great to meet everyone yesterday at all the Board Meeting Daze gatherings. Note: Things are getting set for the first annual Negril Jerk Cook Off at 3-Dives - and it is official! The "creators" of the world famous "jerking" concept hundreds of years ago from the Boston area on the east coast of Jamaica will be competing in the Cook-Off, so the competition is looking very hot indeed! (grin) More to come!
Daily Music News: The Negril Entertainment Network was back on Wednesday at noon from Fun Holiday but got a rain delay for sunset from 3-Dives! Look for the NEN LIVE again at the weekly Friday night Jammin' in da Jungle party starting at 9:30pm! For the latest music news, keep checking here, the Shows & Events listing and our new NEN (Negril Entertainment Network) page located in our Entertainment section! As always, you can check the Negril Message Board for more information about the live webcasts and chats! As the time for each live NEN event approaches, check for details on the Negril Message Board and the new NEN section. This will guide you through the procedure to join in the live web cast and chat in the Negril Chat Room. To make it to the Negril Message Board click on the Main Menu above or below and then look for the Negril Message Board link!
At 9:49am - another perfect day in Jamaica... The temperature is 85° F, 29° C.
Click here for Translation
Beingee's Internet Negril Privacy Policy
Beingee's Internet Negril.Com is Powered By Globalnet


We use them and they can provide for all your Hosting Needs!

Other area to visit in Jamaica:


© Copyright 2002. Beingee's. All Rights Reserved.