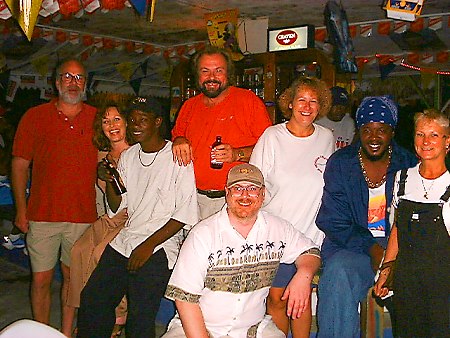 Board Meeting at DeBuss!
May 25th, 2000
The Beingee's May Board Meeting Daze moved into second gear as the party moved on to DeBuss! The Thursday night installment of the Board Meeting was hindered by the lack of current and phoneline, but that didn't stop the Negril Crew (pictured at the DeBuss bar) from keeping the good times rolling! As mentioned, the Board party is only in second gear, getting ready for Alfred's Ocean Palace, Winners Bar, the Lighthouse Village and Prento's Birthday Bashment on Sunday! Yah mon! Daily Music News: Because of a lack of current and phoneline (just like the Negril of years past!), the Negril Entertainment Network had to cancel the webcast and chat from the Board Meeting at DeBuss! But this should not effect the next event on Friday night at Alfred's! Keep on checking the Negril Message Board for the latest information on how to join the NEN for the live webcast and chat in the Negril Chatroom! To make it to the Negril Message Board click on the Main Menu above or below and then look for the Negril Message Board link!
At 5:38pm - a late afternoon rain... The temperature is 84° F, 29° C.
Click here for Translation








Other area to visit in Jamaica:

To meet the banner advertisers requirements, we need to post this link to their privacy policy section. Give it a click if you have any qualms about it mon!
© Copyright 2000. Beingee's. All Rights Reserved.