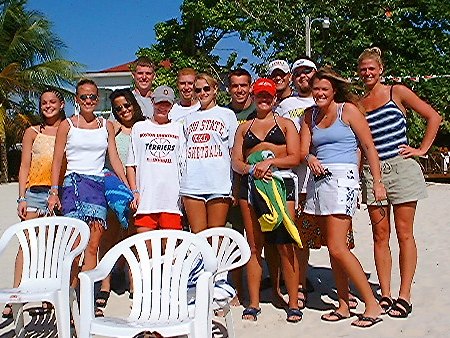 Half the Crew from OSU!
March 25th, 2000
Students from my Alma Mater, The Ohio State University, showed up in force during this Spring Break week. Today's Negril Today picture shows about half of the Buckeyes who were staying at Merrill's - the other half had just taken off for an afternoon snorkeling cruise. As Spring Break winds to an end, Beingee's would like to take a moment to thank all our Spring Break visitors for spending their Break with us in Negril! And don't forget guys and gals - Negril is more than just Spring Break and we want to welcome you back to our sandy shores anytime! How about a "Summer Break" after Spring Quarter is over? (grin) See you soon! Daily Music News: The next Negril Entertainment Network webcast will be Sunday from the Thatch Hut Bar - with dancehall tapes straight from the hot spots in Kingston! Check the Negril Message Board for the latest information on how to join the live webcast and Negril Chatroom! To make your way to the Negril Message Board click on the Main Menu above or below and then look for the Negril Message Board link!
At 2:04pm - an overcast afternoon. The temperature is 77° F, 25° C.
Click here for Translation








Other area to visit in Jamaica:

© Copyright 2000. Beingee's. All Rights Reserved.