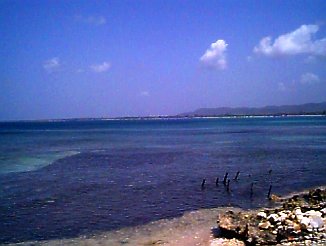 The Bay
February 25th, 1998
Here is an early morning shot taken from where the cliffs start and looking back at the beach. As you can see, there are many great picture opportunities in Negril! Note: we have finally finished the clickable maps of both the cliff and the beach hotelsl. All our sponsor hotels are listed, but there are a few properties that are still not clickable - that's because we haven't finished their pages yet with all the preparations that we are making for Spring Break 1998! We are getting ready to unveil a Spring Break line up like the world has never seen - the best of the best of Spring Break! Daily live broadcasts on the Negril Entertainment Network and the realtime Negril Chat Room will let all of you that are unfortunate enough not to be here for March Spring Break - to join in the fun at Risky Business, Roots Bamboo, Mariner's Inn and more! All on the Negril Entertainment Network and Beingee's Internet Negril. Back Ah Yawd is gearing up for spring break as well - Delroy will be back soon with another special episode for the Spring Breakers.
At 9:04am, a beautiful morning! The temperature is 78°, 26° C.
Click here for Translation






© Copyright 1998. Beingee's. All Rights Reserved.