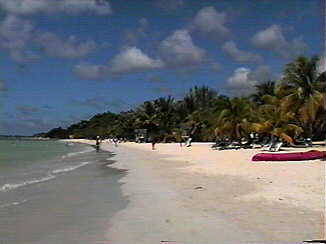 Morning Walk

24th, November 1996

One of the most relaxing things to do in Negril is to take a leisurely morning stroll on our seven miles of soft white sand, as shown here. You get lost in your thoughts, or in daydreams about pirate days of old...

Once again, the Charela Inn Thanksgiving Dinner invitation is open to all visitors this week! Click here to see Tuesday's page and then print it out and present it to the Charela Inn to receive 10% off a spectacular Thanksgiving dinner and a free rum punch on Thursday. Click here or on page #2 above.

At 8:13 am, never under estimate the Cooper factor! The temperature is 80° F.,28° C.