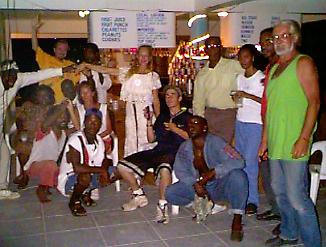 Pirate's Pub Crawl!
June 24th, 1998
The Wednesday Night Pub Crawl 2 at Travellers Beach Resort provided a great opportunity for all of Pirate's local friends to get together and join all our online friends in a cyber experience unlike anything else! We had a big crowd as this picture shows - taken about 9:30pm on Wednesday night and the people just kept coming in. Afterwards we made our way up the beach to Roots Bamboo for live reggae on the beach. Be sure to stop by one of our Pub Crawls on your trip to sunny Negril Jamaica! The Pub Crawl continues tonight at Jamaican Price Restaurant - look for us online around 6:30pm or so on Thirsty Thursday! Note: in addition to the IRIE FM broadcast from the Negril Cyber Cafe at Eddie's Tigress II this week, be sure to look for us with Pirate from the Thatch Hut ! Details will be posted by 3pm or so on Wednesday on the Negril Message Board. Back Ah Yawd is back - click here for the latest installment!!! Yah mon!
At 10:40pm - heading to Roots Bamboo! The temperature is 80° F, 27° C.
Click here for Translation








This page is sponsored by Charela Inn on the beautiful beach of Negril. If you like this website, be sure your next visit includes a stop at the fabulous Charela Inn and Le Vendome Restaurant! Let them know you saw them here! If you want to be a sponsor, bemail us. Thanks!
Other area to visit in Jamaica:

© Copyright 1998. Beingee's. All Rights Reserved.