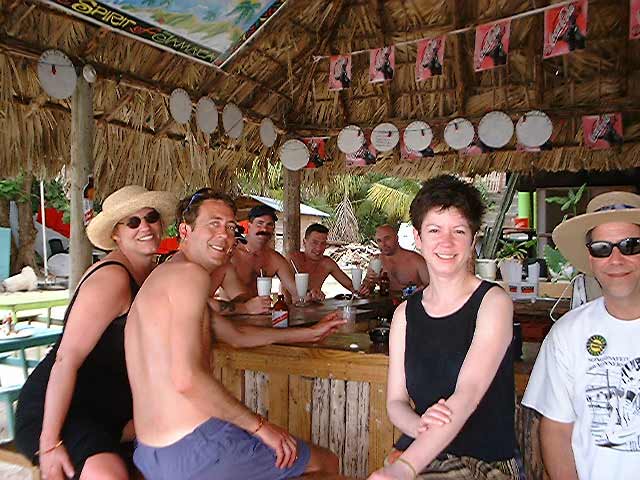 Lurker Convention!
January 24th, 2002
Wednesday at noon on the beach, Beingee's Negril.Com held it's weekly Board Meeting Daze gathering at Fun Holiday! The weekly gatherings are set up so that people who visit the Negril.Com website, members of our Negril online community, can meet each other in person while vacationing in Negril! This past week Joe, Music Mon and I have been meeting a large number of visitors who have read the Negril Message Board but do not post, commonly referred to as lurkers on message boards. There are so many lurkers in town this week that it seemed like a Lurker Convention at Fun Holiday! Many of the lurkers have been easy to spot in a crowd as they have been wearing the Beingee's Boardie buttons that Jess Z and Texas T designed (picture of lurker with button above - grin)! If you would like to make a button for beach and concert wear, be sure to check out our Things To Do section, link is located on our Main Menu! Enjoy!
Daily Music News: The Negril Entertainment Network will continue it's weekly scheduled live webcasts and chats on Saturday from Irie Vibes and on Wednesday from Fun Holiday at noon and Roots Bamboo at 9pm! For more information about future NEN events and the Beingee's Board Meeting Daze, which are held on Tuesdays at sunset, Wednesday at noon and 9pm and Saurday at 9pm, keep checking here, the Shows & Events listing or the Negril Message Board for all NEN live events! As the time for each live NEN event approaches, check for details on the Negril Message Board. These posts will guide you through the procedure to join in the live web cast and chat in the Negril Chat Room. To make it to the Negril Message Board click on the Main Menu above or below and then look for the Negril Message Board link!
At 11:13am - very bright sun overhead... The temperature is 80° F, 27° C.
Click here for Translation
Beingee's Internet Negril Privacy Policy
Beingee's Internet Negril.Com is Powered By Globalnet


We use them and they can provide for all your Hosting Needs!

Other area to visit in Jamaica:


© Copyright 2002. Beingee's. All Rights Reserved.