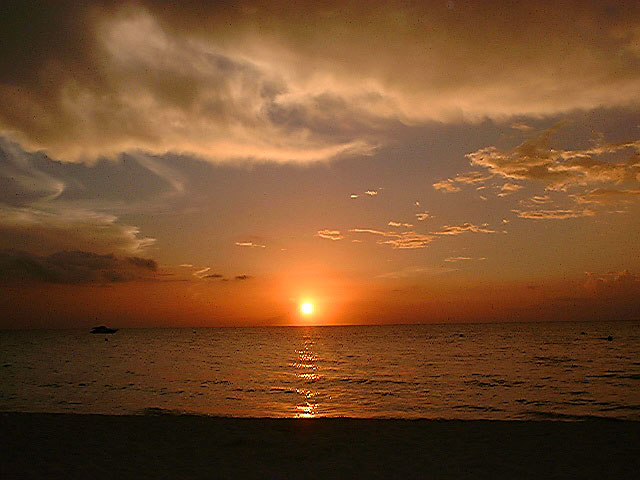 A Tribute Sunset

September 22nd-23rd, 2001
Jamaica has been stunned as the world has been since the incidents of September 11th. But in all this tragedy there has been some people who made the ultimate sacrifice trying to save the lives of others, of strangers, of people they would never meet. To a person, when asked, they claim they are just doing their job. Their job, by it's very nature takes them to places that the average person would try and avoid. This week's Sunset of the Week goes out in tribute to the Firefighters, Police and Emergency Technicians not just in memory of those lost in New York City, but to all their brothers and sisters worldwide! It takes a special kind of human to be willing to risk their life on a daily basis, at a moments notice and do their job. Next time you see one of these noble people, take a second to say hello and thank them for all that they do. Until times of need, their job can often be thankless and all of us owe them a debt of gratitude for being willing to do their job. A heartfelt thank you goes out to these selfless everyday heroes.
Daily Music News: The Negril Entertainment Network's weekly Wednesday webcasts and chats will continue from Fun Holiday at noon and at 9pm from Roots Bamboo! For more information about future NEN events and the Beingee's Board Meeting Daze, which are held on Tuesday and Wednesday, keep checking here, the Shows & Events listing or the Negril Message Board for all NEN live shows! As the time for each live NEN event approaches, check for details on the Negril Message Board. These posts will guide you through the procedure to join in the live web cast and chat in the Negril Chat Room. To make it to the Negril Message Board click on the Main Menu above or below and then look for the Negril Message Board link!
At 10:44pm - an easy Sunday night on the cliffs... The temperature is 76° F, 25° C.
Click here for Translation
Beingee's Internet Negril Privacy Policy
Beingee's Internet Negril.Com is Powered By Globalnet


We use them and they can provide for all your Hosting Needs!

Other area to visit in Jamaica:

© Copyright 2001. Beingee's. All Rights Reserved.