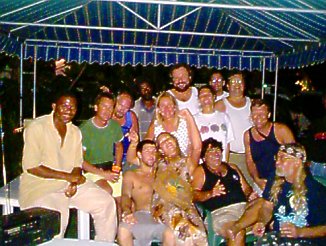 Tigress II Crew
February 23rd, 1998
This was te crew that brought you the Sunday Negril Entertainment Network broadcast of IRIE FM - It took us a while to get online with the audio but we eventually came to you live from poolside at Eddie's Tigress II Resort. Thanks to all those who made it possible. News: we are getting ready to unveil the 1998 Spring Break section - be sure to spread the word to all the university students you know! We will have live broadcasts and chat all Spring Break long mon! If you are unfortunate enough not to be here for March Spring Break - join us on the Negril Entertainment Network. Back Ah Yawd continues at the only spot for all night partying in Negril - Mi Yawd! Click on Back Ah Yawd for more!
At 11:08am, we should be live tonight at Moon Over Negril! The temperature is 86°, 30° C.
Click here for Translation






© Copyright 1998. Beingee's. All Rights Reserved.