Marley Bash News
January 23rd, 1999
According to reliable sources at the Negril Yacht Club, we have the following announcements:
Greetings from Chuck, Cuba, & Rasta John

Monday Feb 1 - LONG BAY BEACH - Football Competition (Bob Marley Trophy, plus cash prize. MUSIC by "SUPER SOUL DISCO" Time 9:00am.

Tuesday Feb 2 - MXIII CENTER - Football Finals, Celebrity Football Match @ 4:00pm "Marley Kids vs Morgan Heritage. Night Concert "ZIGGY MARLEY & MELODY MAKERS, JULIAN MARLEY, DAMIAN MARLEY WITH UPRISING BAND".

Wednesday Feb 3 - DEBUSS - MORGAN HERITAGE, JAH MALI, HARRY CHAPMAN, NICKI BURT, DEBBIE-ANN HILL, SWALLOW, & INDICA BAND".

THURSDAY Feb 4 - MXIII CENTER - "TURBO PHONIC, ADONAI from Kingston".

Friday Feb 5 - ALFREDS - "ZEBRA, ADMIRAL BAILEY, TONTO IRIE, SERIAL KID,MR. PECK, ALI C, GEORGIA HENRY, & ROOTS EXPLOSION BAND".

Saturday Feb 6 - MXIII CENTER - COCOA TEA, CAPLETON, LOUIE CULTURE, ANTHONY B, KEN SERIOUS, JESSE GENDER, MAGANO EMPERO, & KAYTION BAND".

We at the Negril Yacht Club Welcome you all to the Best Shows of the Year. We are located right across the street from MXIII Center where The Marleys will be performing. We will try to have a live Broadcast with Rob & the NEN Crew. Please check daily for more info on this and more. From all of us at the Yacht Club, MXIII and the NEN... "Irie My Friends" "Jah". By the way, this information can be found in the Beingee's Entertainment Shows & Events listing.

Daily Music News: Saturday night was not exactly what we had expected folks. Net Congestion was the culprit as our broadcast signal was for the most part broken up. The Negril Entertainment Network will try again Sunday night - with another Nighabingi drumming session - Yah mon! Look for the NEN live from the Negril Yacht Club Sunday night. Details on how to join the video, audio and chat will be posted on the Negril Message Board as show time approaches, which will be around 8:30pm. See you then!
At 12:02pm - high noon! The temperature is 81° F, 28° C.
Click here for Translation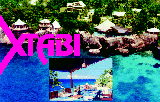 This page is sponsored by Xtabi Resort on the cliffs in Negril. If you like this website, be sure your next visit includes a stop at the famous Xtabi Resort and Restaurant! Let them know you saw them here! If you want to be a sponsor, bemail us. Thanks!
Other area to visit in Jamaica:

© Copyright 1999. Beingee's. All Rights Reserved.