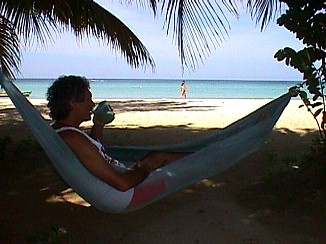 Doing Nothing...
October 22nd, 1998
We have been giving you some of different things to do in Negril during this past few days, and now we want to feature one of the most popular activities in Negril - doing nothing! Absolutely nothing! Yah mon! Sit back in a hammock on the beach (as shown here at Aqua Moon) or on the cliffs - sip on a beverage of your choice and have a "no problem" morning, afternoon or evening! Negril - the perfect vacation destination! More Music News: luck just hasn't been on the NEN's side this past week - if the phonelines weren't bad - the connection to the ISP wasn't goin through - sorry mon! The scheduled broadcast on Thirsty Thursday for the Internet Pub Crawl was cancelled because there was no ISP connection available. But hopefully everything will be ready for the Friday Night Late from the Negril Yacht Club and the Thatch Hut Bar starting at 7:30pm (Yacht Club) and ending around 1:00am (Thatch Hut)! Don't forget to check the Negril Message Board (found off the Main Menu - link is above and below) for the latest details on how to join us on the NEN (Negril Entertainment Network)! Irie!
At 11:40am - the morning is ending... The temperature is 88° F, 31° C.
Click here for Translation







This page is sponsored by Catcha Falling Star on the majestic cliffs of beautiful Negril Jamaica. If you like this website, be sure to book your next visit with Catcha Falling Star - just click on the link to take a tour of the property! And be sure to let them know you saw them on Beingee's! If you want to be a sponsor, bemail us. Thanks!
Other area to visit in Jamaica:

© Copyright 1998. Beingee's. All Rights Reserved.