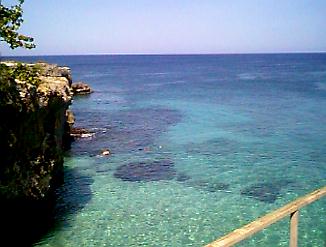 Cliff Snorkeling
June 22nd, 1998
Yesterday we had our Sunday Sunset of the Week which was taken on the Negril cliffs up by 3-Dives - which even has a cave you can swim into! On Monday this picture was captured at beautifully romantic Xtabi Resort looking back at 3-Dives (one of the dive spots shown). If you look carefully, you can see a couple of snorkelers in water near the center of this picture who have that big decision - whether or not to snorkel into the cave at 3-Dives! True mon! Note: we will be coming to you live from the Negril Cyber Cafe this week, at various times during the day the Cyber Cafe will be broadcasting IRIE FM! Keep checking the Negril Message Board to see if the broadcast is on! Back Ah Yawd is still on break - sorry mon, soon come!
At 9:27am - another day in paradise. The temperature is 82° F, 28° C.
Click here for Translation








This page is sponsored by Charela Inn on the beautiful beach of Negril. If you like this website, be sure your next visit includes a stop at the fabulous Charela Inn and Le Vendome Restaurant! Let them know you saw them here! If you want to be a sponsor, bemail us. Thanks!
Other area to visit in Jamaica:

© Copyright 1998. Beingee's. All Rights Reserved.