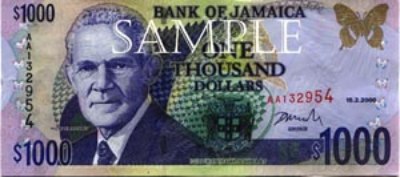 The Manley!
May 22nd, 2000
There has been a change in Jamaica recently! A new banknote was issued - the JA$1000 note! On the new note is none other than one of Jamaica's most beloved leaders, Michael Manley! The note, nicknamed the Manley, has just recently begun circulating and is catching on quick! But follow this advice - get change for the Manley as soon as possible! It's hard enough to "break an Nannie" (the JA$500 note's nickname) on a weekend day, so it would make sense that the Manley will be that much more interesting to get changed! Just a helpful hint... (grin) Note: The May "Board Meeting Daze" will begin on Wednesday at Roots Bamboo! Check the Negril Message Board for the latest information! Daily Music News: The Negril Entertainment Network will be on break until the Wednesday "Board Meeting Daze" Party starting at 9pm at Roots Bamboo! We are trying to arrange a morning/daytime webcast and chat this week, but no promises mon. Check the Negril Message Board for the latest information on how to join the NEN for the live webcast and chat in the Negril Chatroom! To make it to the Negril Message Board click on the Main Menu above or below and then look for the Negril Message Board link!
At 11:30pm - Alfred's on the beach... The temperature is 80° F, 27° C.
Click here for Translation








Other area to visit in Jamaica:

To meet the banner advertisers requirements, we need to post this link to their privacy policy section. Give it a click if you have any qualms about it mon!
© Copyright 2000. Beingee's. All Rights Reserved.