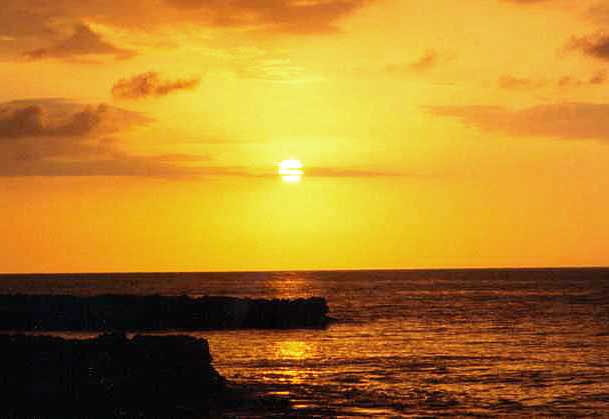 For ffCindy
February 22nd-25th, 2001
This week saw the passing of one of our own, one of the many people that make up our online community here at Beingee's Internet Negril.Com. ffCindy and her husband Foxfire Fred have been visiting Negril and Negril.Com for years. She helped to start the phenomenon of "Negril Gatherings" around the globe such as those held by her own St. Louis Krewe. This wonderful woman loved and cared for the people around her. Her ability with horses let many a rider have championship memories. The warmth of her words in the form of her "Likkle Cottage" reports each morning on the Negril Message Board made many who never had the privilege of making her acquaintance feel that they knew her, and Fred thanks all the members of the Negril online community for your support during these trying times. She was a truly remarkable person. Cindy will be forever in our hearts and souls - she made us laugh and smile. Negril or our version of Negril here in cyberspace can never be the same without her. But as she would want, we shall celebrate her joyous life and the beauty she shared unselfishly with the world. This week's Sunset of the Week is posted in her memory, dedicated to her and our thoughts and prayers are with her friends and family. We would like to thank another of our community and a member of Cindy's St. Louis Krewe for today sunset picture, Mr. Robert Morrison.
Daily Music News: The Negril Entertainment Network's will continue its live webcast and chat schedule on Ash Wednesday at noon from Fun Hoilday and at 9pm from Roots Bamboo. There will also be an live memorial for ffCindy - date to be announced, time will be around sunset. Remember as the time for each live event approaches, check for the event details on the Negril Message Board. These posts will guide you through the procedure to join in the live web cast and chat in the Negril Chat Room. To make it to the Negril Message Board click on the Main Menu above or below and then look for the Negril Message Board link!
At 9:33pm - I'm gonna miss you Cindy... The temperature is 79° F, 26° C.
Click here for Translation
Beingee's Internet Negril Privacy Policy
Beingee's Internet Negril.Com is Powered By Globalnet


We use them and they can provide for all your Hosting Needs!

Other area to visit in Jamaica:

© Copyright 2001. Beingee's. All Rights Reserved.