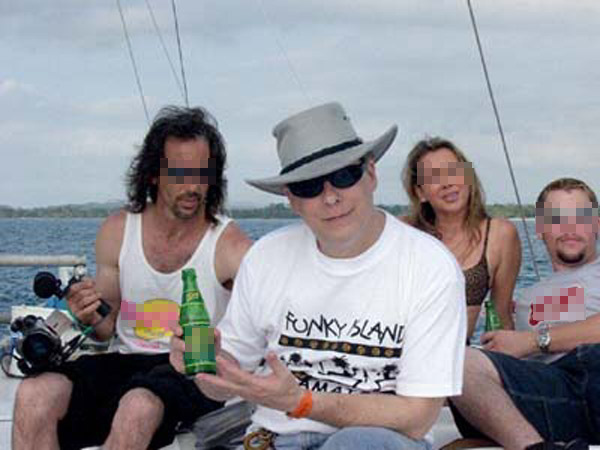 Friends of the NEN
May 21st, 2002
Years ago, the Negril Entertainment Network was born as a live audio webcast from Negril accompanied with Negril Chat Room session! This gave entertainment an interactive capability it never had before! You could request tunes, talk to family members or friends - and when the NEN (Negril Entertainment Network) went video - there was no turning back! Live reggae concerts webcast and noontime parties from Negril became the norm at many places and with the help of Dokk, the unaltered man in the photo above, the tradition continues with the help and dedication of his website NegrilNet.Com. The above photo has been altered since we are using this picture without permission from Dokk's Negril Net website (grin) and only wanted to feature Dokk anyway - sorry Ting! Negril Net is home of the Negril Net Bash, a function that caters to adult oriented website webmasters - certainly a select crowd, but a fun select crowd! NegrilNet.Com is a website that promotes Negril in a unabashed and thought provoking (or laugh provoking) way - they venture a bit deeper into some of the areas of entertainment (sex, partying and gambling - you know, the things our parents warned us about... sly grin) that would not be appropriate for Negril.Com to present as we have viewers of all ages and not all the content may be appropriate for the younger viewers. There are some great comical moments and also some wicked pics so if you are interested give it a click. Thanks Dokk and NegrilNet.Com!
Daily Music News: The Negril Entertainment Network is ready for the return of the live webcasts from Fun Holiday at noon on Wednesday and then 3-Dives for sunset and Roots Bamboo for some live reggae on the beach at 9pm! For the latest music news, keep checking here, the Shows & Events listing and our new NEN (Negril Entertainment Network) page located in our Entertainment section! As always, you can check the Negril Message Board for more information about the live webcasts and chats! As the time for each live NEN event approaches, check for details on the Negril Message Board and the new NEN section. This will guide you through the procedure to join in the live web cast and chat in the Negril Chat Room. To make it to the Negril Message Board click on the Main Menu above or below and then look for the Negril Message Board link!
At 4:16pm - a rainy afternoon... The temperature is 83° F, 28° C.
Click here for Translation
Beingee's Internet Negril Privacy Policy
Beingee's Internet Negril.Com is Powered By Globalnet


We use them and they can provide for all your Hosting Needs!

Other area to visit in Jamaica:


© Copyright 2002. Beingee's. All Rights Reserved.