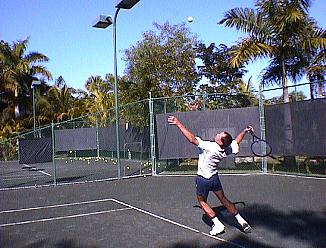 Tennis Anyone?
October 20th, 1998
If you enjoy playing one of the classic games in all of sports - the tennis courts scattered around Negril can be just the place to spend a morning in our tropical sun! Many places have courts such as Swept Away and Mariner's Inn - today's picture was taken at Swept Away! As we mentioned on Monday's page (click on Previous above or below to check it out) - whatever you are looking for in Negril to make your holiday unforgettable, Negril has it mon! Tuesday's Music News: once again the NEN (Negril Entertainment Network) needs to apologize for the non-broadcast live from the Mariner's Inn Sunset Show on Tuesday evening! Seems that the weekend's festivities (Heroes Weekend in Jamaica - to celebrate and remember the lives of Jamaica's national heroes) took it's toll - a few days off will be required - the scheduled broadcasts should return on Thirsty Thursday for the Internet Pub Crawl ending hopefully at Risky Business late Thursday evenin! Check the Negril Message Board (found off the Main Menu - link is above and below) for the latest details on the NEN Real Video broadcasts!
At 10:30am - the morning heats up! The temperature is 87° F, 30° C.
Click here for Translation







This page is sponsored by Catcha Falling Star on the majestic cliffs of beautiful Negril Jamaica. If you like this website, be sure to book your next visit with Catcha Falling Star - just click on the link to take a tour of the property! And be sure to let them know you saw them on Beingee's! If you want to be a sponsor, bemail us. Thanks!
Other area to visit in Jamaica:

© Copyright 1998. Beingee's. All Rights Reserved.