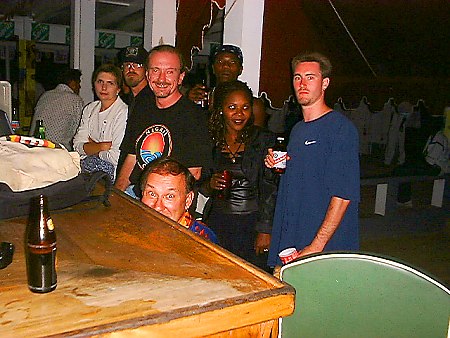 Where's TJ?
September 20th, 2000
Wednesday night at Roots Bamboo it was quite an affair as viewers of Beingee's Negril.Com gathered from all over the planet! Canadians, Americans, Brits, Germans and of course Jamaicans including King Yellowman stopped by to say HI during the Negril Entertainment Network's live webcast of the Hurricane Band. The Negril Chat Room was busy as well. But the highlight of the evening was getting a chance to see TJ (Terryjon - hiding like Kilroy behind the bar) again and have some great laughs! Although he is only here for a few days he just seems to light up the place with his unique brand of humor, not to mention his annoying flashlight! (grin) Today's Negril Today picture, as has the past few days pictures have been taken by Michael Funny Face! Look for more of his work in the future. The man has a good eye for photographs! Thanks Michael!
Daily Music News: The Negril Entertainment Network will be returning on this weekend with several surprises! Be sure to keep an eye on the Negril Message Board for the latest information about joining the live webcast and chat in the Negril Chat Room and being a part of the NEN! To make it to the Negril Message Board click on the Main Menu above or below and then look for the Negril Message Board link!
At 4:39pm - an overcast afternoon... The temperature is 86° F, 30° C.
Click here for Translation








Other area to visit in Jamaica:

To meet the banner advertisers requirements, we need to post this link to their privacy policy section. Give it a click if you have any qualms about it mon!
© Copyright 2000. Beingee's. All Rights Reserved.