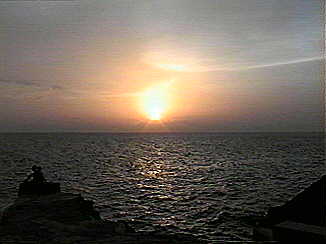 Sunset Cove
July 20th, 1997
Sittin' on the cliffs at sunset. That special person at your side, arm in arm - enjoying the last light of the day together. Renewed and refreshed. Relaxed and content. Negril. Moments you will cherish forever.
Last night's sunset courtesy of Drumville Cove - soon to be one of our sponsor hotels. Note: to find places to stay on the cliffs in exotic Negril, be sure to check out the sponsor hotels on our Cliff Hotel Map. You can always find it in our Where To Stay section, along with a map of the beach as well. Click here or above on page #2 to see the Cliff Hotel Map and tour the cliffs.
At 7:17 am, a perfect morning on the cliffs. The temperature is 72° F, 23° C.