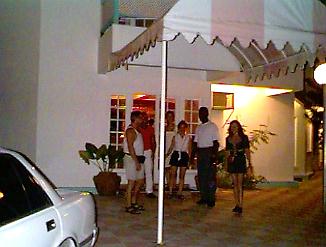 The Wellington
November 19th, 1998
On Tuesday we mentioned that we would feature another air conditioned restaurant and bar in Negril and today we are pleased to introduce you to Beingee's latest sponsor, The Wellington! Having a menu unlike any other in Negril, start off with a Greek Salad with Feta Cheese and Kalamata Olives, a fine bottle of Merlot, the splendid Beef Wellington and finish it off with an scrumptious New York Cheesecake. Located right across from the world famous Negril Yacht Club, The Wellington can be the start (or finish) to a great evening. Daily Music News: The NEN will be back live on the Internet Thursday night from Risky Business with the Mikey and the Working Band. It promises to be as hot as last Monday's Negril Entertainment Network broadcast. Once again, details should be posted on the Negril Message Board! Watch, listen and chat with us on the NEN!
At 10:22am - the morning sun gets toasty. The temperature is 82° F, 27° C.
Click here for Translation







This page is sponsored by Catcha Falling Star on the majestic cliffs of beautiful Negril Jamaica. If you like this website, be sure to book your next visit with Catcha Falling Star - just click on the link to take a tour of the property! And be sure to let them know you saw them on Beingee's! If you want to be a sponsor, bemail us. Thanks!
Other area to visit in Jamaica:

© Copyright 1998. Beingee's. All Rights Reserved.