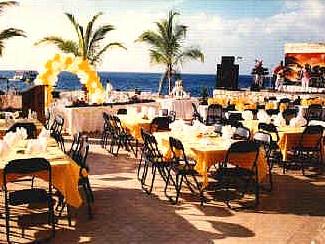 Wedding Days
May 19th, 1998
If that special day is approaching, be sure to remember Negril as more than a honeymoon spot. There are many incredible places to get married in our tropical paradise, be it on the beach or on the cliffs, as show here in this picture taken as the reception was getting set up at Mariner's Inn. You can find out more about wedding specials in Negril by clicking on Specials either above or below. Along with the wedding specials, you will be able to find many other specials being offered from our Beingee's sponsors. Be sure to give it a click and look for more specials coming later this week! Note: It doesn't look good for our NEN broadcast from the Pub Crawl 2 on Tuesday at Travellers tonight, but keep watching the Negril Message Board for the latest, we are working on it. Back Ah Yawd is new today - give it a click mon!
At 2:15pm - a warm Tuesday afternoon... The temperature is 90° F, 32° C.
Click here for Translation






© Copyright 1998. Beingee's. All Rights Reserved.