Negril at its Finest
January 19th, 1999

The following is an excerpt (used with permission) from The Weekend Observer dated July 10, 1998. In this article by Appollonia, the following comments were made about an extremely unique vacation experience at Chippewa Wellness Resort. The article is as follows:
Chippewa
A favorite amongst our trendy is neslted across the road from the beach on Norman Manley Boulevard on the fringes of the famous Negril Morass. This alternative paradise is called Chippewa owned and perated by multi-talented John Babcook. John has authenticated his hotel in true American-Indian fashion, reflecting his own heritage, that looks perfect in the lush landscape dominated by Royal Palms and Bamboo. Being the great grandson of a Sioux chief, one can't get any more authentic than that, his colourful past dictates the style of the art and decor in and around the property.
What I am writing about though, is his talent, yes, his wondeful talent. Designer to the stars, he has had his collection on display in various boutiques on the very hip Rodeo Drive. He was no stranger to success with clientele boasting the likes of Cher, Mary Tyler Moore, Billy Idol and Keith Richards just to name a few. Talk about versatility!
Having been there and done that, we are now the lucky ones to be able to experience his unique tastes right here in Negril. Its location is central for the lover of Negril's active nightclub life. Being in the heart of the action makes it more appealing but as it's across the road from the hustle and bustle of the beach, it makes for peaceful evenings if you so choose.
John offers a selection of one to three-bedroom cottages, with full kitchens I might add. I must warn you, however, once you see the view you might not venture anywhere else for the time you are there. From his pool deck the view is miles and miles of the picturesque Morass where well-known international artist Judy Ann McMillian, has been creating her masterpiece for sometime.
Well-known international star, Jeff Healy's Tommy Stephen jets in regularly in-between touring gigs to do some drumming in his own gorgeous cottage that John designed and built for him. That's talent wouldn't you say?
End of article.
Daily Music News: The Tuesday night wedding of Porky and Tina on the NEN was a first - the first live Internet wedding from Jamaica (as far as we know). The Negril Yacht Club hosted the affair - it was a grand time (and Shelly B was in great voice last night - let me tell you! Look for the Negril Entertainment Network to be at Roots Bamboo on Wednesday night for the Hurricane Band. Details on how to be part of the video, audio and chat will be posted as usual on the Negril Message Board.
At 3:04pm - a blue sky afternoon! The temperature is 81° F, 27° C.
Click here for Translation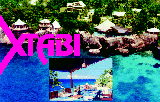 This page is sponsored by Xtabi Resort on the cliffs in Negril. If you like this website, be sure your next visit includes a stop at the famous Xtabi Resort and Restaurant! Let them know you saw them here! If you want to be a sponsor, bemail us. Thanks!
Other area to visit in Jamaica:

© Copyright 1999. Beingee's. All Rights Reserved.