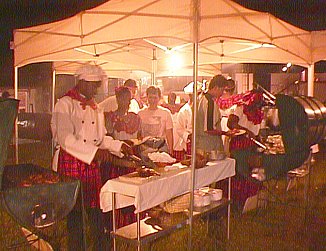 Negril Nite Out
December 18th, 1997
Today's picture is from last week's Negril Nite Out. Last night's Negril Nite Out at Central Park was postponed on account of the Jamaican national election being held today. But Inge (from the Lighthouse Inn) has assured me that the party will return bigger and better next Wednesday night! No problem mon! Tonight's Pub Crawl has also been rescheduled to Saturday! We will making our way around Olde Negril. Click back here on Saturday the 20th after sunset (JA time) and join the fun mon! With the holiday season approaching, Charela Inn would like to announce their Christmas Eve and Christmas Day menus. Click here to check it out! In today's Back Ah Yawd, Delroy is once again meeting with the students at the Chamber of Commerce's new Hospitality Training Center at Mirage Resort. Click on Back Ah Yawd to see what's up!
At 9:04 am, the sea is inviting... The temperature is 76° F, 24° C.
Click here for Translation






© Copyright 1997. Beingee's. All Rights Reserved.