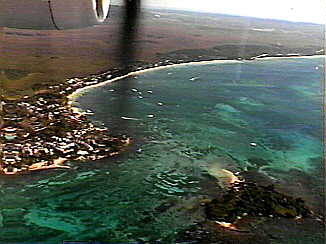 Coming In
18th, December 1996
As you can see from the picture, Negril was beautiful yesterday afternoon, around 3pm. The very edge of Bloody Bay is in the extreme lower left. From the point, come around and begin the splendid seven miles of white sands, only about a third of it is shown here. We are not even down as far as the Charela Inn in this picture. By the way, Booby Cay is the island in the lower right. And for anyone in a band, or knows someone in one, click here or above on page #2 for very important information.
At 8:33 am, beautiful morning back in Negril. The temperature is 72° F., 22° C.

© Copyright 1996. Beingee's. All Rights Reserved.