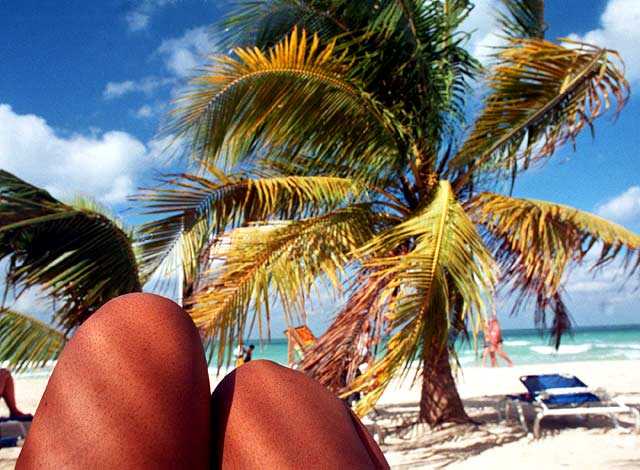 The Bee's Knees
October 17th, 2001
Although "the bee's knees" was a slang phrase from the period of the flappers in North America in the 1920's, it's meaning is still clear today. It was used when referring to someone or something as being "the best". And this is one of the best pictures that we have had the pleasure to post on our daily Negril Today pages! This picture says it all! So what are you waiting for? (grin) Thanks to Jodie from Michigan, USA for this great shot. She is such a great photographer that it really doesn't look like she spent much effort on composition, shading and lighting. You would think she pointed and clicked! The skill of a great photog! Thanks Jodie!
Daily Music News: The weekly Negril Entertainment Network's webcast and chat on Wednesday from Fun Holiday at noon will continue as part of the Tuesday and Wednesday Board Meeting Daze! For more information about future NEN events and the Beingee's Board Meeting Daze, which are held on Tuesday and Wednesday, keep checking here, the Shows & Events listing or the Negril Message Board for all NEN live shows! As the time for each live NEN event approaches, check for details on the Negril Message Board. These posts will guide you through the procedure to join in the live web cast and chat in the Negril Chat Room. To make it to the Negril Message Board click on the Main Menu above or below and then look for the Negril Message Board link!
At 9:20pm - another night in the tropics... The temperature is 77° F, 25° C.
Click here for Translation
Beingee's Internet Negril Privacy Policy
Beingee's Internet Negril.Com is Powered By Globalnet


We use them and they can provide for all your Hosting Needs!

Other area to visit in Jamaica:

© Copyright 2001. Beingee's. All Rights Reserved.