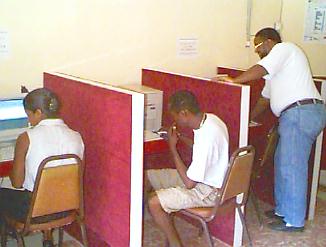 Computer Place
September 17th, 1998
Yesterday we ran a contest that featured a picture and you were asked to guess where it was taken and what it was. Dave E. sent in the correct answer that it was an old fountain (known locally as the The Pump) dedicated to King George located in Savanana La Mar (Sav La Mar for short). It is located at the corner Great George and Rose Streets. Thanks Dave and Funny Face has a cold ready for you in April! Today's picture was taken just up the street from The Pump at one of Sav's first computer centres - Business Automation and Training. Garth is on the center PC while the main man at the centre, Mr. Anderson takes a look at our Beingee's website on the machine at the right. If you are of need of internet connection in Sav - just look for Mr. Anderson's Business Automation and Training Centre. Note: we will be live Friday night from the Yacht Club until about 10:30pm and then head up to the Thatch Hut for another wild Friday night of great music until 1:00am or so, as long as you there! See you then! Details will be posted on the Negril Message Board!
At 6:45pm - an evening of tunes continues. The temperature is 85° F, 29° C.
Click here for Translation








This page is sponsored by Charela Inn on the beautiful beach of Negril. If you like this website, be sure your next visit includes a stop at the fabulous Charela Inn and Le Vendome Restaurant! Let them know you saw them here! If you want to be a sponsor, bemail us. Thanks!
Other area to visit in Jamaica:

© Copyright 1998. Beingee's. All Rights Reserved.